This limited serie designed for the 55th anniversary of the Fleurette brand lets elegance and exception punctuate your travels. Enriched with premium equipment, this « 55 » edition is distinguished by its warm and modern atmosphere and optimum comfort.
The anniversary edition is available on 5 FLEURETTE models :
MAGISTER 70 LMF,
MAGISTER 74 LMF
DISCOVER 71 LMF,
DISCOVER 74 LJG,
DISCOVER 75 LMF
55 SHADES FOR 55 YEARS OF HISTORY,
to create emotion in a motorhome
A refined interior style
This special 55 series features a new interior style. The two-tone Emocuir 55 upholstery has a special signage: an embroidery "55" and a nice stitching work on the cushions.
This high quality saddlery is made in a workshop in the north west of France, an expert in luxury leather goods. The density of the foam provides real seating comfort. In addition, the backrests are magnetised (rather than velcro) to make them easier to fit.
An olfactory signature
Fleurette also marks this special series with a soft, floral "frangipani" olfactory signature. This exotic flower with its sweet fragrance, also called "temple flower", will perfume your motor home, taking your interior on a journey…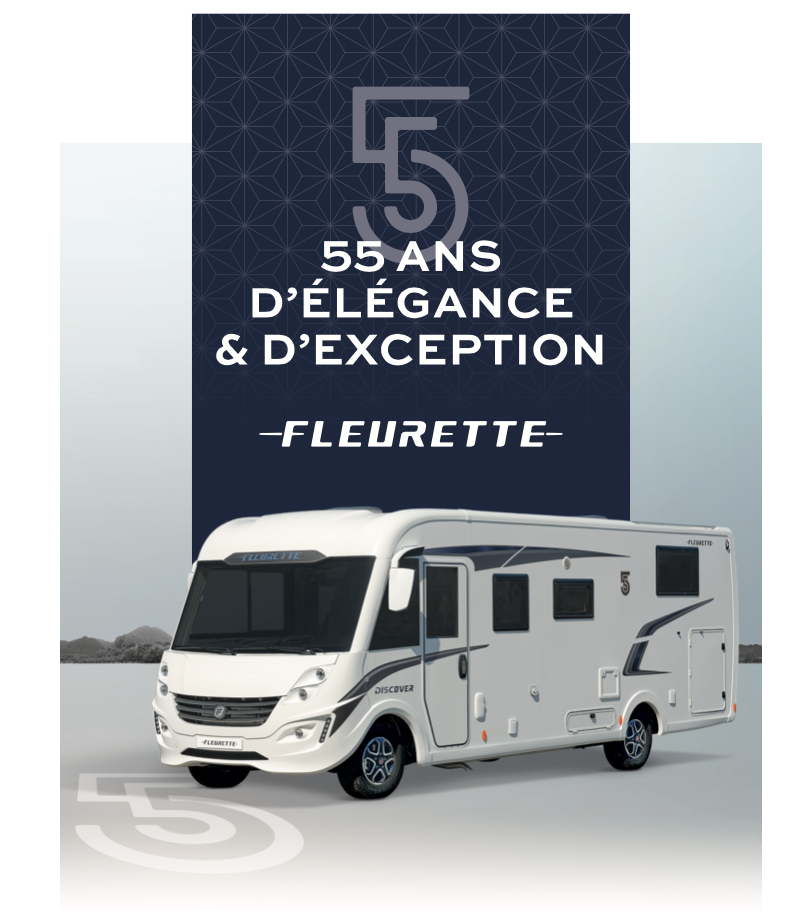 Exclusive decoration and chrome grille
L'identité visuelle extérieure adopte une décoration exclusive 55 sur les parois et la face arrière. La face avant du porteur intègre une calandre habillée de chrome et les trains roulants sont chaussés de jantes 16". L'ambiance au poste de conduite est soignée avec un volant avec commandes déportées. Le pommeau du levier de vitesses est quant à lui habillé de cuir.